April 28, 2021 4:00-4:30pm MST, 939 Robinson Avenue, Trinidad, CO.  Public Meeting regarding District USDA Grant Application.
---
---
January 2020 – A Little About TAD
Quick Med Claims Podcast with Trinidad Ambulance District
---
---
THE COLORADO SUN
SEPTEMBER 24, 2019
Sprawling Las Animas County, like many rural areas, badly needs emergency responders. But it's a teachable moment.
---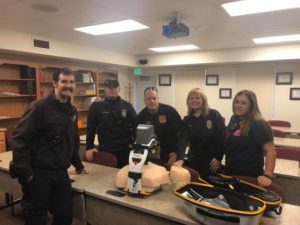 The Trinidad Ambulance District has added the "Lucas Device" to its equipment list on the ambulances. This device is a state-of-the-art chest compression device that performs perfect, uninterrupted, CPR. Training with the Trinidad Fire Department is underway! Special thanks to the Colorado Department of Public Health and Environment, EMS Section, for the matching grant that made the purchase of these devices possible. It's just one more way we are keeping up with the latest, research driven, EMS guidelines. (Left to Right:  Matt Comden, John Velasquez, Anthony Trammel, Andrea Brody, Alison Sanchez)