Trinidad Ambulance District (TAD) has been obligated loan funds in the amount of $3,207,000 by the United States Department of Agriculture, Rural Development through the USDA Communities Direct Loan Program for the renovation/construction of a new ambulance facility additionally, the State of Colorado Department of Local Affairs Energy and Mineral Impact Assistance Fund Program has granted a $750,000 grant to defray project costs.
The first link in the emergency response chain is dispatch.  Receiving information regarding location, call type and patient, is pivotal to a quick and accurate response.  In 2010, a new building was erected at 939 Robinson Avenue, Trinidad, Colorado to house Trinidad Ambulance District.  No thought was given to radio reception at that time.  Due to topographic obstacles (specifically two mountains between TAD's current location and the tower located on Bowen Hill), radio reception is intermittent at TAD.  There have been times when TAD radios haven't received a call and dispatchers had to call a crewmember's personal cell phone.  It is extremely important to note that the projected new location for TAD has no obstructions to prevent reliable radio reception.  It is literally "line of sight" from the radio towers to the proposed new facility.
TAD provides emergency medical services to Las Animas County, Colorado:  the only exception being the Kim School District.  Las Animas County encompasses 4,775 square miles creating emergency response times ranging from minutes to over an hour.  Containing a population of approximately 15,000 people, the county is considered super-rural by the Centers for Medicare and Medicaid.  Large parts of the County are considered wild land and frontier.  Well known for its outdoor activities, including camping, hunting, and fishing which draw many visitors to the area.  The State of Colorado recently opened Fishers Peak State Park, its newest park and the State's second largest at 19,200 acres.  It is located immediately outside the city limits of Trinidad, Colorado. To effectively respond to emergencies in the park and other extremely remote areas of the county, TAD has procured specialized vehicles for remote patient extrications.  The current facility doesn't have enough space to park these vehicles and they must be kept at a remote location.  This creates a delay in response when those vehicles are needed.
Mt. San Rafael Hospital (MSRH) located in Trinidad is a Level 4, Critical Access Hospital.  Beyond emergency transports directly to MSRH, TAD also provides Inter-Facility Transfers from MSRH to facilities offering higher level care for certain patients.  Those facilities range from 85 up to 190 miles away.  To save wear and tear on four-wheel drive ambulances, TAD purchased a vehicle specifically to transport patients to facilities north of Trinidad.
As Las Animas County is so rural, a Quick Response Team (QRT) has been established in conjunction with local volunteer fire districts.  Each QRT member is educated through TAD's Emergency Medical Technician course concluding with certification from National Registry Emergency Medical Technicians, a U.S. certification agency covering pre-hospital medical providers.  All Nationally Registered Paramedics and Emergency Medical Technicians are required to complete Continuing Education hours every year.  Trinidad Ambulance District provides those educational opportunities for any qualified person wishing to partake.  Additionally, TAD works directly with the Las Animas County Sheriff's Department, Trinidad Police and Fire Departments on Joint Task Force for rapid response to mass casualty, active shooter, and other such devastating events.
Trinidad Ambulance District's purpose in the community goes beyond responding to emergency medical calls and transporting patients to facilities with higher levels of care.  Community education is a mission that TAD takes very seriously.  The District conducts CPR/First Aid classes for the public and local businesses.  Through those classes an average of 600 American Heart Association CPR/First Aid cards are issued to individuals annually.   Emergency Medical Responder courses are taught to high school juniors and seniors.
As a forward-thinking organization, TAD anticipates area growth thus the necessity for providing emergency services to a larger population, expanding its fleet necessary for effective response to emergencies, expanding the type of transport available e.g., helicopter and expanding educational opportunities to a larger number of people and organizations.  For these plans to come to fruition, TAD requires expansion.  The District's current location at 939 Robinson Avenue, Trinidad, Colorado consists of 6,540 square feet building which includes crew living quarters, training facility, administrative offices and fleet garage sitting on approximately one acre which does not allow for expansion in any direction.  The facility no longer has sufficient space to house all fleet vehicles, some are stored at another location.  When conducting any type of education program, parking is a serious issue especially if fire trucks are involved.
In 2016, TAD purchased an 11-acre parcel located at 2001 E. Main Street, Trinidad, Colorado with the intent of building a new facility that would provide for the needs of expansion. Three years later, during the planning phase of the project, property at 13840 Hwy 350, Trinidad became available for purchase.  Although the acreage was less, roughly 3 acres, the location a contains 15,000 square foot building and space to expand, if necessary, in the future.  It became clear that remodeling an existing structure from 15,000 square feet to 20-25,000 square feet would be much more cost effective for the District.  In November 2021, TAD purchased, including exchange of the property at 2001 E. Main Street, the property at 13840 Hwy 350, Trinidad.  TAD's architect has provided a schematic design of the building remodel, a water tap has been approved by the City of Trinidad, a Special Use Permit has been acquired from the Las Animas County Commissioners and the Request for Proposals process completed.
In conclusion, this project will offer many benefits to residents and visitors of Las Animas County.  The ability to receive and send radio communications from the Dispatch Center without limitation is the most important benefit.  The location is ideally located with rapid access to calls within the City of Trinidad, improved response times to calls on and off Interstate 25 in addition to populations to the east of Trinidad.  Parking for employees and the public will be expanded allowing for a higher level of safety especially when hosting educational programs involving larger vehicles such as fire trucks.  The increased square footage of the facility will more adequately house TAD's employees and fleet as well as its education program while allowing for future growth.
April 28, 2021 4:00-4:30pm MST, 939 Robinson Avenue, Trinidad, CO.  Public Meeting regarding District USDA Grant Application.
---
---
January 2020 – A Little About TAD
Quick Med Claims Podcast with Trinidad Ambulance District
---
---
THE COLORADO SUN
SEPTEMBER 24, 2019
Sprawling Las Animas County, like many rural areas, badly needs emergency responders. But it's a teachable moment.
---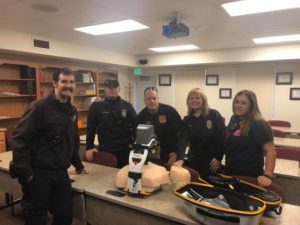 The Trinidad Ambulance District has added the "Lucas Device" to its equipment list on the ambulances. This device is a state-of-the-art chest compression device that performs perfect, uninterrupted, CPR. Training with the Trinidad Fire Department is underway! Special thanks to the Colorado Department of Public Health and Environment, EMS Section, for the matching grant that made the purchase of these devices possible. It's just one more way we are keeping up with the latest, research driven, EMS guidelines. (Left to Right:  Matt Comden, John Velasquez, Anthony Trammel, Andrea Brody, Alison Sanchez)